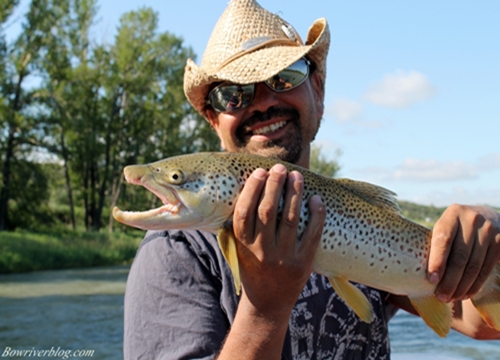 Old Friends And Bow River Trout Fishing Memories.
It's been sometime now since I have seen my old friend Jamie. Jamie and I went to high school together. I bumped into him once in a local Calgary Dairy Queen along time ago but lost contact since. Then we reconnected on good old Facebook. Its funny how many friends from school are on Facebook! Jamie meant to fish with me last year but work put the kibosh on those plans. This year Jamie made a point of taking a day off of work to go and play on the Lower Bow River.
As I sat watching TV on Friday night, a nasty storm blew in and dumped a pile of rain. I was hoping that the rain fall would not stain the river too badly. We arrived at Policeman's Flats to dirty water conditions. So straight away my brain started thinking about the best lure for the water conditions. My choice was bright in coloration, a brook trout pattern. We tied up and set sail. The fishing was slow as the water was mucky. I rowed us close to the banks as we chucked Rapala's into the undercut. Still no fish we hooked or landed. As we made a corner in the river I spotted a nice cove which I figured held fish. Jamie's rod was loaded and ready to cast. I asked him to hold up and suggested he plant that Rapala into the cove I was eyeballing.
Jamie fired his Rapala perfectly into the slack water that was meeting a slow riffle along the bank. Three revolutions and fish on! It looked like a monster to me but I could not see the fish. I asked Jamie if it was big and the answer is seen in the picture above. He took his time and guided the fish into the awaiting net I held out. "Yeah baby" I hollered out loud. "That's what we are here for buddy." Jamie stated that was possibly the largest fish he had ever caught. Many fish were brought to the boat today. It was a good day despite the water conditions.
We fished the countdowns deep to catch the fish near the bottom of the river. The stop and go retrieve was working well today. Sometimes the fish want the lure presented a certain way or else they won't touch it. Jamie keyed in on how the fish wanted the bait presented and as a result, caught eight nice fish. As the saying goes, "I love it when a plan comes together."