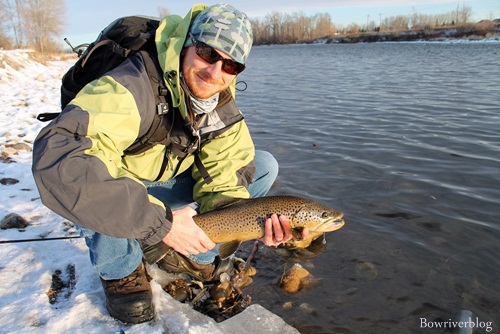 The winter sunlight hit the shimmering water early today, nine o'clock and time to rock. Time's a ticking and the fish don't catch themselves! We guzzled a few coffees and made the mad dash for the river. I'm not too sure why we were in such a hurry as we never encountered another fisherman all day long, you never can be at the river soon enough! The backpack zipper glided open and the first selection chosen, Rapala was the name and massive trout was the dream. I went to bed last eve thinking of monster browns and counted fish instead of the usual sheep. I always hope for the best and prepare for the worst, one can never come and leave empty handed. So off we went into the wild blue yonder and sunny blue skies to catch the dragons. Our target today was Browns and Rainbows and I was hoping to land as many as I counted in last nights dream.
John had contacted me pre-Christmas day and inquired about a guided shore trip to walk the banks of the mighty Bow River. His e-mail states "Just found your Blog a little while ago and really enjoy it. Your site is also a great resource for information on spin fishing the Bow, which is something I have not done. I generally fly fish in the summers and ice fish in the winters, but do not really enjoy chucking big flies so am thinking a spin cast approach to the Bow may be right up my alley. This thought, coupled with our ridiculously warm winter thus far, and your December 11 Blog have me wondering – do you ever do guided winter walk/shore trips or am I better off waiting until spring"? My reply was simply put, "I do offer winter shore fishing trips and winter is one of the best times of the year to fish the river. Hungry fish and minnow imitations make a great recipe for success winter fishing the Bow".
Well success was only a short drive up the Deerfoot Trail and into the Southland Dog Park where we hiked downriver and into brown and chromed-out silver delight. John began the day with awkward casts that maybe made it seven to ten feet out at best. From casting a fly rod to casting a spin rod can make any fishermen feel like a rookie. A short time later and many empty casts, John was starting to get the hang of things! His casts were further and more accurate and then came the first fish, a rainbow that smacked his minnow offering but never latched on. John stated he just had a hit, I said "try to bring it through his area again and see what happens. John heaved the lure out a low and behold, the fish latched hold this time and abruptly sent his rod thrashing side to side with sheer delight. The first fish always gets my heart pumping faster! John reeled that silver beauty in with ease and I unfastened the laser sharp hook from his toothy grasp, this fish wanted to eat John's minnow real bad. We let the fish slip into the cerulean blue to fight again another day. I was completely confident that this was only the start of good things to come. We walked up and down the shore line talking fish and waiting for the next fish to eat that fire minnow pattern. Often it's not the color of the lure that counts, its how you make it look down there that's crucial.
By now John had graduated from rookie to semi-pro and was hurling that Rapala into what I thought was the sweet spot; where the flowing current meets up with the slow deep water. The edge is where the fish were hanging and not long after his silver bullet, a stunning brown was making a mad dash for freedom. John man handled this brute and it was two trout on the scoreboard. We decided this hole was to be left alone for another day but fished the tail out of the pool where another huge male brown was brought to shore. Both the onlookers sitting on the bench in the dog park were clapping and cheering John on. Ok they weren't clapping and cheering but they both got off that park bench to check out John's trophy trout. We then left to fish another location. My plan was to put John into two or three over wintering holes that I know have been productive in the past. A short five minute drive and we were there.
Out of the car and down the hatch with the lunch I had packed for us, hungry trout fishermen need their sustenance! We finished up and walked a short distance upstream to the river. A high bank on the south shore provides shelter from the elements and is also great holding water for ravenous trout. I explained to John that there was a shallow area in the river; we were on top of the bank looking down at it. I stated that beyond the shallow shelf was a deep channel the current has dug out and usually big fish hold in this location. I wanted to try this location first off and then head upriver from here. As we took our final steps off the hill and onto the rivers edge, I made a cast into this channel and started to rip my rainbow Rapala pattern downward. A few tweaks of the lure and a long pause to let the minnow tumble in the current, I felt a sudden stop of the minnow, a dead stop. Then the rod bent furiously and I set the hook quickly to capture this log. A monster brown thrashed to the surface to escape and then did the roll to shake my Rapala. I was able to land this dark brown beast as John's jaw hit the icy bank below us. "That is a huge trout Mike" John stated. John held my rod for me as I gently hoisted the male out with my wet cold hands. "That's what we are here for buddy". I unlatched him and laid him back into the water and he was off like a bullet leaves a gun. Then it was time to walk upstream and deliver the goods we were there for.
After several casts with a silver minnow imitation, and a few nice fish; I decided it was time to switch it up and use some color to our advantage. I opted for a Brook Trout pattern and quickly tied up the new trout treat, I find colorful lures work well in the winter with the right presentation. John fired away and it was not long until he latched into another sweet Bow River trout. This was the start of things to come as we walked up and down the shoreline hammering fish out one after another. The brook pattern proved to be the hot ticket with over five brutes landed and released. After several hours had passed and many fish, it was time to walk out and head home for the day. I left the last section alone as we arrived so we still had a nice chunk of real estate to fish before we left.
As we walked we fished and numerous more trout were willing to take the bait. I was fishing a little also and managed to hit three nice rainbows on the long pause. Every fish I hooked needed that three second stop on the retrieve to take hold. I tried a few just with a straight retrieve and no trout. I decided to add a pause and three fish were landed. In the winter the water is cold, sometimes very cold so slow and steady with a stop a go technique will land you fish. Often lots of them! With yesterdays high of six degrees and sunny blue skies all day, I can't think of a better way to spend a day off of work. I would like to thank John for hiring me as his guide for the day and look forward to seeing you out on the boat this summer. Oh and by the end of our trip John was casting like a pro and I upgraded his status as a result of his evolution. Nice work yesterday John, those were some splendid fish you landed!
Now it is my turn to go and fish the mighty Bow River tomorrow and latch into a beast, or many beasts. I think before I go to bed tonight I will count fish again, seemed to work like a charm last time! Stay tuned to the Blog for an update on tomorrows fishing adventures.