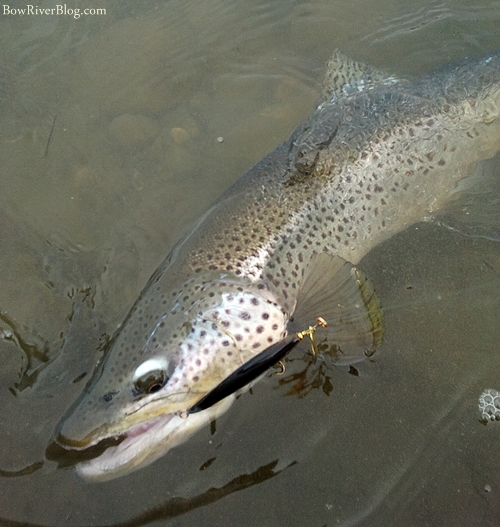 Bow River Spin Fishing Report March 11, 2012
Hello fishing friends, a quick post to let you all know how the Bow River is fishing this month for me. I was fishing this past Friday afternoon on the lower section of the river below the highway 22X overpass. I arrived at noon and had a Rapala Countdown Silver CD-9 tied up before I hit the river bank. I decided to cast in an area just below a drop off with rapids entering into a small deeper hole. The lure would land in the shallow rapids and I would let it float into the deeper hole before I put any action on the lure. Only four casts and I landed into a twenty inch brown.
I then made my way upriver picking apart every hole and run along the walk up but was unsuccessful in hooking any fish. About 100 yards upriver, I decided that the fish were looking for a slower presentation and switched lures. Off went the Countdown and on went the Minnow Spinner in the gold and black color combination. With this lure choice, you can really slow up the retrieve speed so those sluggish feeding fish have a chance to catch the offering and wrap their tooth lips around it. Shortly after my switch up, I was into another large brown, this one taping out at 24 inches; he took the minnow after the swing and on the way into shore. I was spinning very slow giving him lots of time to strike the gold flashy minnow.
Making my way up and down the river, I was unsuccessful for thirty minutes of fishing. I fished the rapids, slow deeper runs and seams where the two channels meet in the river with no strikes. It was time to leave for the day but kept fishing my way downstream towards my car. I stopped at a great looking hole for a few casts. Another choppy run and then a steep drop in the river! I figured there were fish hanging in the flowing water where it flowed gently across the deep hole right beneath my feet. Only two casts and another brown trout was on the hook. Three fish were taken in this inconspicuous section of the river. A good tip here is to never leave any stone unturned. Those places where you might pass up thinking that section is void of any trout, try a few casts to make sure.
It was a productive fishing day for brown trout, no rainbows were hooked today. The fruitful lures were the minnow spinners and the Rapala Countdown. I also tried spinners with no success. The rainbows are on the move now to stage up for their annual spring spawn. The fish in that section are moving down river towards the conjunction where the Highwood River meets the Bow. They will wait there until the Highwood breaks open and then make their run up. Now is a great time to target those big brown trout that are eager and ready to take most all minnow imitations. The fishing is fair to good right now and the weather seems to be in our favor this March. I am almost getting ready to get the boat out of its winter hibernation dry dock.
Every day is different so don't hesitate to switch up your hooks often, and remember to try different speeds of retrieve and at different depth levels. Sometimes the fish want a diverse looking snack so be resourceful and carry a good selection of tackle. Now is the time for that trophy brown trout so make sure your reels are clean and free of that winter dust. Change your line from last year's spool to new fresh line and sharpen those hooks up for another exciting spring fishing season of trout fishing action on the Bow River. If you are looking for a guided fishing trip this spring, please use the contact form on the site in the top right hand corner.