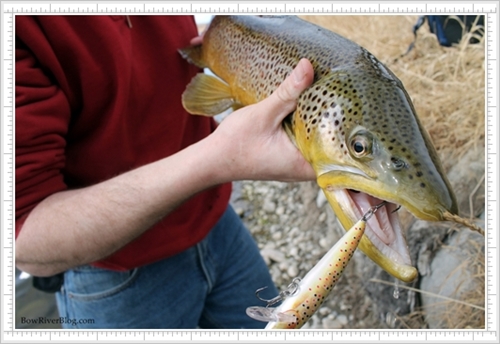 A Friendly Adventure
Spring is upon us now; winter never really had its firm grip on us to begin with. Mild weather combined with minimal snow has brought spring ahead of its normal schedule. Mother Nature has been kind to us here in Calgary, Alberta which is a warm blessing to the fishing conditions. Tom, my friend since we were five, had discussed a day on the river and yesterday was the perfect day to hike and fish. Warm weather combined with two old friends is always the perfect recipe for success. Tom met me in the south end of the city where I loaded my gear into his truck and off we went, two friends with one mission. A short drive on paved clean roads and it was not long until we arrived, excited and happy to be close to the river once more.
This location requires a walk into its tranquil private setting, but the walk is a short one and is usually very rewarding both on the eyes, and the fishing rod. As we walked, Tom and I reminisced about fishing trips long ago, hikes we were on when we both were single and living only to find new water to fish. We discussed our Chester Lake hike, not stopping until we reached to top and into the lake to catch the provinces only Northern Dolly Varden. Oh those sure were the good old days, living to fish and working for the next adventure. Down the hill we hiked and carefully down the steep bank I crept making sure not to break a leg. After a short twenty minute hike I was home, in trout bliss. No fish were caught thus far or even a hook tied, but when I step onto the river bank I am in heaven on earth. I split open the back pack and retrieved the extravagances, tapping my finger on my cheek in thought. I viewed the water and it was clean, sparkling clean. I elected to choose a natural color; the Rapala Fat Head was knotted up, and launched out with great vigor and fury. I loaded that 6'6 inch rod with all my influence, making the lure hit the outside flow of current far across the river. My heart thumping faster with every revolution of the reel, I let the lure sink down to the bottom before first before I gave it action. Then once I felt the lure engage the river bed, I hammered the junk to it. I jolted the lure hard to make my Rapala dance below the surface creating a resemblance of a wounded bait fish. No luck on the first few tries as I glanced down river to see what Tom is up too. The second and third casts came up unoccupied, but just chucking that lure far out into the river was sheer harmony. My forth cast was successful, my presentation was simple, cast out far and let the hook sink while making subtle tweaks making the lure move in blasts, short quick blasts followed by a three second pause! A hungry rainbow was today's first dinner guest, and boy was she ever hungry and pretty. It's nice when you have gorgeous dinner guests and the table. I unbuttoned her from my Eagle Claw and gently let her go back to her watery dwelling, trusting she will come see me again for dinner another day.
Moving now upstream into the flow of the current hoping to find rainbows hanging in the clean oxygenated water. Several unsuccessful casts later and time to move again! Back down stream where the seam and flow of the water subsides and turns slow and calm. I fire away again, almost exactly where I caught my first fish and bam, I get action yet again. Another rainbow takes flight and pulls hard bending my fishing rod with potency making the tip almost touch the river. These fish sure are strong, and do their very best to escape the grasp of any anglers laser sharp hook. Not this time little rainbow, not this time! I land him along the shore reaching for my pliers before he is at my door step. I left him submerged in the water while I plucked the hook from his upper lip, then off he went like a bullet leaves the barrel. It has only been ten minutes now and two nice fish landed; this is going to be a fantastic day I think to myself. Boy was I ever correct on that assumption!
Tom moved upstream to my location and immediately got action on a Bang Tail; it was funny because I was just thinking of switching to one before he met me in my position. Great minds must think alike! I stood and watched him haul in his catch while he battled his spirited rainbow. Another sixteen inch fish was caught and released. This was just the start of what was to be revealed later. I decided to change it up and offer those scrappy bows' another lunch sample. Off went the Rapala Fat Head and on went the Matzuo Fantastic Jointed Minnow. I just received the lure in the mail and wanted to give it a dip in the Bow River. It is pink in color and has one joint in the back side, looks really close to a swimming minnow and I have had great luck with it in the past! I used the lure for ten minutes and no bites, not one. I said to Tom, "I don't think they are looking for wild colors today, I think they will take more natural colored baits. Just after I said that, the lure hit a large rock and the bill broke off. So much for that $10.00! It was time to reach into the tickle trunk of lures, this time going back to a Rapala Silver Shiner, another discontinued color that works awesome for trout. I started to bang fish one after another with this lure. It looks almost exactly like a Rocky Mountain Whitefish, so I believe that is why the trout hammer it often. Tom then started getting into some great rainbows and we had ten fish landed between, non-stop trout heaven was ours.
Then it was almost time to go, Tom had to be at his parents to pick up his children. We both decided to fish further downstream where our hooks had not broken the water's surface all day. So down we went, thirty yards down to be precise. I still had on my Rapala and by this time, Tom had switched to a brown trout Countdown. I stated there might be some bigger browns where we were fishing; they usually sit in this area where the water is deep and slow, the tail out of the pool. I was slowly working my lure through a deep sector when my lure snagged up hard in a rock. I did my best to free it but she was in there good, my new discontinued lure was gone. I do not like leaving lures in the river, especially hard to find ones such as this one. That is how she goes when you river fish! My back pack was quite far upriver so I asked Tom to borrow a Rapala out of his box, I lifted a Rainbow Trout pattern and tied up swiftly, we only had ten more minutes left to fish. My forth cast and fish on, a massive brown was on that Rapala like glue as I yelled to Tom to come take a look and a picture. What a beast, twenty five inches of awesomeness. I love huge browns so very much. Tom and I high fived and he stated, "Mike what a fish, killer brown my friend, killer brown". That last fish made my day complete, like a cool breeze on a hot summer day, the icing on the cake. I walked back upstream to fetch my back pack and camera, making casts along the way. I was reeling it back and low and behold, I hook the line I snapped my discontinued lure off! I then snatched it with my hand and with a few gentle tugs, the lure came free laughing the whole time. I love it when you hammer a 25 inch brown and get your rare lure back all in the same day. Must have been my lucky day!
What a pleasure it was to be with my old friend Tom fishing the Bow River. For myself, there is nothing more pleasing than good friends and big river fish. We do not get out as much as we used to, but when we do get to fish we always seem to have a great day, catching fish or not. I can't wait until we meet up again on the river Thomas! I think the good things in life can be free.