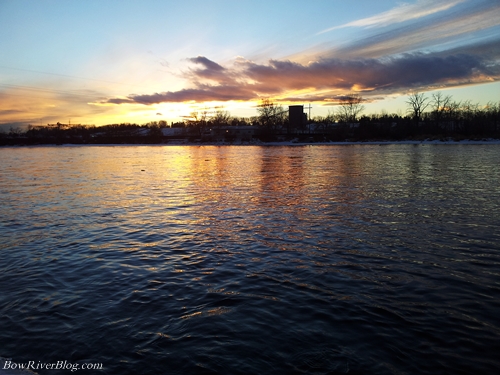 Winter fishing at it's finest
Well now that the holidays are over and all the stress of Christmas shopping is past; it was a much needed break to fish the river the past few weeks. The sun broke free of the snowy clouds and we finally came out of those freezing -20 temperatures. I was away from the river for two weeks so it is always a mind bender to figure out where on the river I am going to fish first. It is a challenge for me to know exactly where the fish are when the cold has kept me away; but there are always certain starting points I will look to first. I love to fish deep water and also water that has a finer gravel bottom, by floating the river all summer and really getting to know its prime locations, I surly have an upper hand on those fair-weather weekend warriors. Before I left the house I organized the tackle tray's and made sure I had fresh line spooled up on my new Pflueger President spinning reel I received in the mail just before Christmas break, I kind of bought myself a Christmas present this year.
As I stepped out of the car the wind whistled blowing snow across the field, the snow eater winds we call Chinooks that blow hot air down you parka and visions into your mind. I arrived on the river bank with the wind behind my back; which made for much longer creating distances. The lure almost flew as if it had wings and landed far over almost touching the opposite bank. The longer the cast the better the odds right, right! I snapped the bail wire shut and began to retrieve in anticipation, slowly retrieving my Rapala Countdown and letting it make bottom contact every so often.
The location I was fishing has flow and a hard seam coming of the now ice covered bank below my feet. I wanted to fish the middle of this flow and get away from the faster water; usually the fish will not be in fast water this time of the year. I kept moving down river until my offering was gobbled up by a pretty female brown that could not resist the temptation of an easy meal! As carefully as a surgeon, I removed the hook from her top upper lip as I held her off the ice I was standing on. It is important to keep the fish off the ice when it cold as their eye balls can freeze very quickly. It is also wise to carry a net in case you have to reach out over the ice to land the fish, falling in the water when it is this cold is NOT fun trust me; so better to be safe than sorry. I gently put her back over the ice ledge for her to swim away slowly back to her lie.
I really wanted to latch into a male so I slipped my way along the ice down river into slower water. This section has a gravel bottom which is ideal for spawned out fish to be holding protecting their eggs. I stopped and sat on a rock sipping my Tim Horton's coffee and retying a new offering for them males to feast on. There is just something about hot Tim Horton's coffee, warm winds and fresh air that I can never seem to get enough of. I took a minute as my thoughts rewound back in time, back to the many years of fishing this river in the dead of winter. It was like a movie was playing in my brain; a feature film where I and a few close cast members were stars. Each actor were prosperous in their roles as Oscar winning anglers, only we received no gold when the show was over, just commemorations of those movies we made collectively on the Bow River. I snapped out of my daze and stood up abruptly, looking to slay the prize winning Brown Trout. A number 15 Panther Martin investigated the gravel bottom bouncing along as the current swiftly kept it from snagging up. Many empty cats later it was again time to remove this piece of hardware and reload another. I love to use big tackle in the winter, these fish want to eat a big meal, something that will be worth the effort for the energy it takes to swim and catch it. Out came the Live Target for a spin around the block, these lures rattle and float if you stop the lure. This makes it easy to work your lure slowly and leave it out there longer. A few casts and I'm into heart pumping brown trout action, the fish is doing the classic death roll on the surface to chuck my lure out of its yapper. I reeled her in with diligence and reached out the net for her to come aboard. Her colors were dark yellow highlighted with beautiful red halo's that sparkled in the full glare of the bright sunshine. I admired her but not for long, better to get her back quickly than risk losing her forever.
The wind picked up and the sun was falling rapidly so I decided that was enough, enough for one afternoon. I never want to leave the river, there is something about choppy riffles and deep dark voids that keep me mesmerized and captivated. The straps of the backpack went over my shoulders and I began my walk back out to the vehicle with a smile from ear to ear and that memory embedded in my mind forever. It won't be long until I am back again, back on the shore stretching my arms and legs and smelling that fresh clean air. Until I return, I hope everyone has a safe winter fishing season!