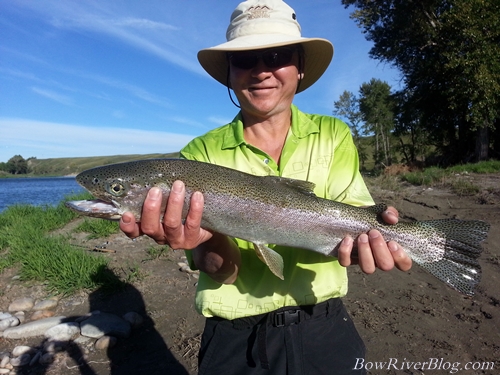 It's been awhile since I last posted and much has changed on the Bow River. Two of the boat launches have reopened as of last weekend, both Glenmore (Graves Landing) and Legacy island have been reconstructed. Unfortunatly Policemans Flats is still in very rough shape and it looks like Carseland Weir will not be reconstructed this year. McKinnon Flats is usuable now and many anglers are both putting in there and taking out.
Since my last post I bought a new truck, a Honda Ridgeline and with the way the terrain is around the boat launches, it was not soon enough. The truck is comfortable and able to hold all the gear and pull the boat with no problems what so ever.
The fishing lately has been fair but the river is taking much pressure in one certain stretch the last few weeks. Policemans Flats to McKinnon has been super busy. I floated last weekend from Glenmore to Policemans and the fishing was poor in my opinion. I also floated McKinnon to Legacy Island last Sunday and the fishing was much better with decent trout landed.
Lets hope they start on Carseland Weir soon as well as restore Policemans Flats boat launch.