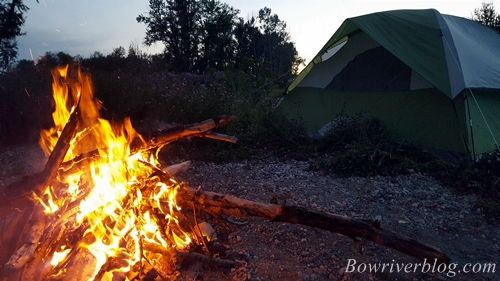 My Staycation Fishing Holiday
It has been quite some time since I had summer holidays, so this year I decided it was time to take a vacation, or rather a "Staycation" as people like to call it. To me, a staycation is a place that is not so far from home, but when you are there, it feels like you are a million miles away. It's a place where nothing else matters and time stands still. Suspended but for only a week, that beauty of blue sky and the sight of the sun rising over the horizon through misty river air. My home away from home!
Before I left work that Thursday, my co-workers asked me where I was going for holidays and my reply was simple, "Fishing". None of them really understood my reply, but I know you do, I know you understand! I hung a sign off my paint room door that simply said "GONE FISHING" and off I went to seek out those creatures that give me so much joy.
Day 1 (Friday)
The very first day of holidays started off with a HUGE bang, it happened to be the start of the Calgary Stampede also. While everyone was going into the city, I was heading the other way to the river. I had plans to fish with my friends Riaz and Ted. I had talked to Riaz and he was kind enough to offer me a jet boat trip on the Bow River which meant I did not have to row my boat and could do some power fishing with the boys in their new boat. I was extremely excited and could hardly sleep that Thursday night, it's funny how I still get that childlike excitement when I know I am fishing the next day. I met them at Mackinnon Flats and off we went upriver to find some of the Bow Rivers finest.
We focused mostly on ledge areas of the river where trout like to sit and wait in ambush, taking food off the ledge as it tumbles over the ledge. We caught some incredible fish in these locations as well as some dandy trout in the troughs along the banks. I landed over 20 fish that Friday and Riaz was very close to that mark as well. Ted by far had the fish of the day, or as I dubbed it "the fish of the year". A thirty inch trophy jaw dropper that decided he was going to mow down on Ted's Rapala Countdown crank bait.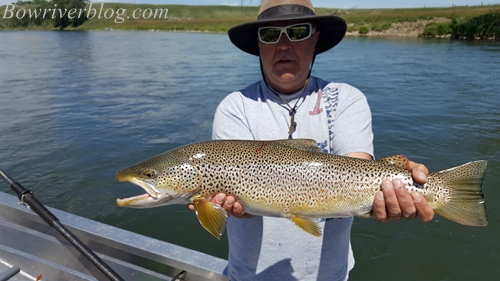 I was extremely happy for Ted and happy that I was there to witness this very rare occasion. I would chalk that Friday up to a day I will never forget!
Thursdays Float trip
The next two days saw thunder storms in the late afternoon that brought heavy torrential downpours that muddied the river up considerably leaving the river mostly unfishable. I let the river alone and took some time to do some chores around the house before Thursday's trip with my best friend Tom. We were to float early in the morning and thankfully we did not see any more heavy rain that Tuesday or Wednesday. We arrived at the river at seven AM to find the river stained up but not unfishable by any means. We launched out at Policeman's Flats and it was not long until we were into our first fish of the day. Tom had a smaller brown trout take his rainbow trout Rapala Countdown off the corner of a sweeping bank. The fishing was quite slow up at the top of the float and I decided to pull the boat off in what I refer to as the Burnco hole. I had landed some amazing fish a few weeks before in this locale and Ted pulled out that monster brown, so I decided we would give our lures a good work over in the chop up top of the long chute.
We were using a brown trout Rapala and a Live Target minnow respectively. We had not hooked anything up top so we decided to move out of the fast flowing water and into the middle of the chute where the water was less choppy. It did not take long before I hooked into a monster rainbow that sent my rod into convulsions and my reel into screaming fury.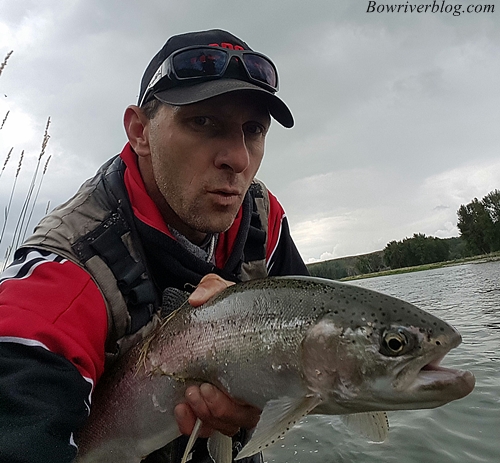 It hit my lure hard after several jerks and a long pause! Most often, it is best to put a long three or four count pause on your lure after several retrieves of your reel. It looks like the fish is dying to your prey and they will hammer your offering on that long pause when fishing a river or stream. I landed this beast of a rainbow and snapped a quick selfie as Tom was upriver fishing. We carried on into another slow stretch of river with nothing caught and no hits. We came to the convergence of the Highwood River and the Bow River when I got another monster Rainbow. I said to Tom, "right there where the seam meets the slow water" and BOOM, the fish hit my lure like a freight train.
Check out the video of this beauty.
Crawling Valley Slay Down
The last Sunday of my holidays I decided to switch to Walleye fishing and head East to Crawling Valley Reservoir. My fishing friend Doug asked me if I wanted to join him in his boat for the day and how could one say no to that? We were up and on the highway early and arrived at the boat launch at 6:30 AM after the hour long journey. It was a clear and sunny morning with hardly a breeze. Doug and I removed the tarp from his boat and rigged or rods with jig heads and crank baits. A minnow tipped jig head is always a good bet for success fishing Walleye. We then hooked up Doug's Hummingbird fish finders and slowly made our way out of the new boat launch area. Once we hit the open lake we opened the motor up and headed for a drop shelf that Doug had marked on his fish finder, a shallow weedy drop off from 12 feet deep to 30 feet deep. We began drifting over the ledge and jigging for our quarry below. As we entered into seventeen feet of water, a scrappy Walleye hit my jig and minnow combo and it was fish on. Doug then asked me to mark the spot where we hit the first fish so we could "spot lock" the zone and stay in place with his Minn Kota trolling motor.
We hovered in this area for two hours landing fish after fish here. I started a Facebook live video and Doug proceeded to smash eight fish in a row, all captured on Facebook Live video for my friends and followers to watch. I wish I knew how to convert the video into a YouTube video so I could post it here for you to watch. Next time we are out I will bring my GoPro with me and capture some footage to share with you all.
In total for the day, we each landed around thirty walleye and Doug caught one monster pike pictured here.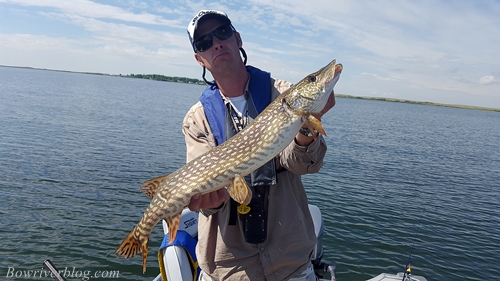 He actually thought he had a big Walleye, but I called it correct when I said "it's a big pike buddy". It was an amazing fishing staycation for me and I am grateful I took the time off of work to relax and enjoy this wondrous province of Alberta.