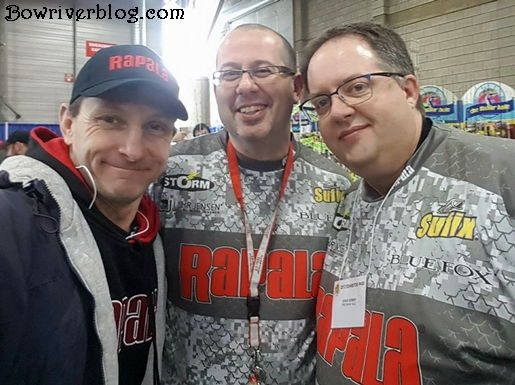 I packed a day bag and headed north to Edmonton this weekend. Their annual boat show was on and I had never been, so I woke up early Saturday morning and took the two hour drive. I arrived shortly after noon to a packed parking lot of cars and truck. The line-up of vehicles when I arrived was long, nothing like I have ever seen for a boat show before. After twenty minutes of waiting, I finally paid my parking fee and entered the Expo Center to a full house of die-hard anglers and hunters alike!
I slowly made my way through the masses and over to the Fishin' Hole booth, which was full of savvy shoppers looking for a deal on their next deal on a rod or reel. I could not believe the amount of people that were there compared to the Calgary show. There was possibly thirty thousand people there by 12:30 PM. I saw my friend Steve Meredith helping some customers so I waited until he was done chatting with them before I said my hellos. Turns out they were looking for a Vexilar product and I was able to help them with product info on the T-Pod. Was great to see Steve as I had not seen him since last summer when we were out fishing in the jet boat. We chatted briefly as there were many customers to help.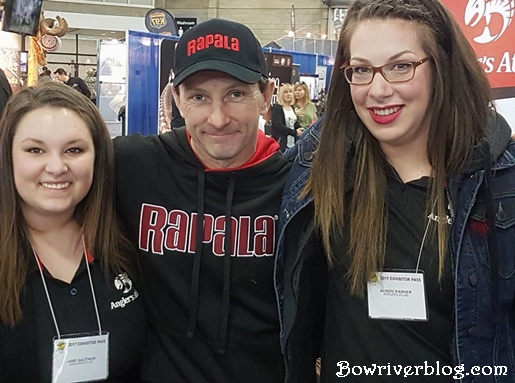 I made my way out of the Fishin' Hole booth and wandered the show. There were many friends I wanted to stop and see. I wanted to visit the people who follow me on Instagram, or are friends with me on Facebook. I like to put faces to names. I headed out to find my friends at Anglers Atlas. I was honored to make their magazine's cover shot last year and wanted to thank them in person for choosing my image. I wandered at least thirty minutes before noticing their booth was straight across from the booth at the Fishin' Hole. I spoke with Alison and thanked her and her staff for selecting my image to make the cover shot. It was a great chat with many laughs shared. I moved on and as I headed deeper into the fishing booths, I picked up on the scent of mini doughnuts. It took me about ten minutes to finally find the booth. I can't make a fishing show without getting some mini doughnuts.
I walked most of the show and ran into some friends and clients alike. Was really great to see Wally and Robert at the show! Thank you for going out of your way on a Saturday afternoon to come for a visit. As we walked by the Shimano booth I saw Sean Conrad representing in the booth. I made a point to stop and chat with him. Sean and his brother Adam are guides on Lake Diefenbaker and hold many line class world records for both trout and Burbot. They are known as "The Fishing Geeks". It was great to talk brown trout fishing with Sean at the show! My feet started to get sore and by that point, I had seen all of the show I wanted to see.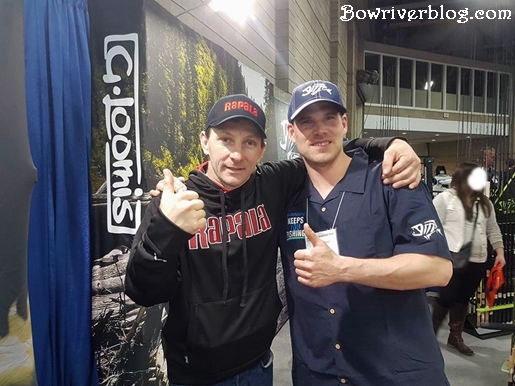 If you have never been to the yearly boat show in Edmonton, I highly recommend you go. There were some great deals to be had, many great fishing lodges attending, and a first class experience all the way from the entrance to the exit. I will be back next year for sure. Now, let's get outside and get back to some open water Bow River trout fishing shall we?