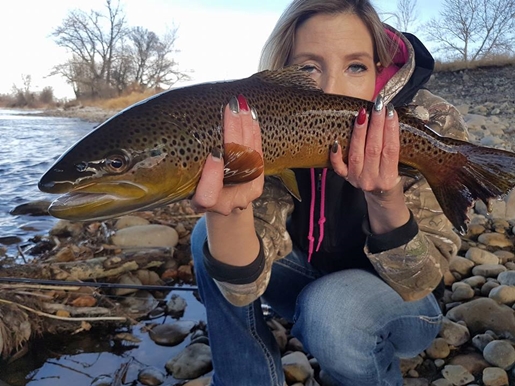 When people see pictures of the fish that I have had the pleasure of catching the last few months, they think that I have years of experience. Impressed by pictures that I have posted on social media, I have even been asked for tips! Little do they know that the first fish that I caught was a rainbow trout in August of 2017, a mere 3 months ago in the beautiful Bow River! I will never forget that experience! If I had to describe it in one word, that word would be thrilling! I get so excited the moment a fish is on the end of my line. The anticipation of finding out the species, seeing the colors and of course, the SIZE, is hard to put in words. It is difficult to contain the excitement, trying to remember everything that I have been taught to do the moment that I land a fish. Sometimes that excitement overtakes me and I forget something, resulting in that fish getting away. Following that first catch, I was immediately addicted to fishing and wanted to learn as much as possible.
I owe my short term success to a couple of people who have become very near and dear to my heart in a very short time. I was introduced to Mike Robertson through a mutual friend of ours and I immediately liked him. His passion for fishing is inspiring and contagious! Shortly after that first experience and meeting Mike, I attended a fishing seminar put on by Mike on the shore of the Bow River. I was quite nervous as I was very beginner and had many questions, some of which I was even embarrassed to ask. At the seminar, Mike made me feel comfortable enough to ask all of my questions. I learned a lot that night… it was perfect for a beginner like me. The seminar had both an education portion and a hands on portion where we fished from the shore and received feedback on our casting and technique. That evening, I went home with another catch under my belt and a lot of good information.
Mike and I connected from the beginning. Fishing aside, he is a great person to talk to and share stories with. Since the seminar, we have been fishing a few times together, including a mini guided session on the afternoon of my dad's birthday, a difficult day for me having lost him to cancer a few years ago. It was a great day. We caught some beautiful fish including both rainbow and brown trout. I know my dad would have been proud.
Mike teaches me about how to read the river and continues to advise me when he notices something that I am struggling with. He is very supportive and is usually right when he says "that's the spot" or "you're going to catch a monster". His energy is encouraging and motivating!
It is no wonder that I have caught so many beautiful fish under Mike's guidance. He is very generous when it comes to sharing his knowledge and many years of experience. I highly encourage anyone who likes to fish, to consider Mike for a guided tour. His prices are more than fair for the experience that you will receive.
Thanks for everything Mike. I look forward to many more fishing adventures with you. Fish on!
Thanks so much for the testimonial Laura, it was a pleasure fishing with you this year, cheers to many more big fish in 2018.
~Mike