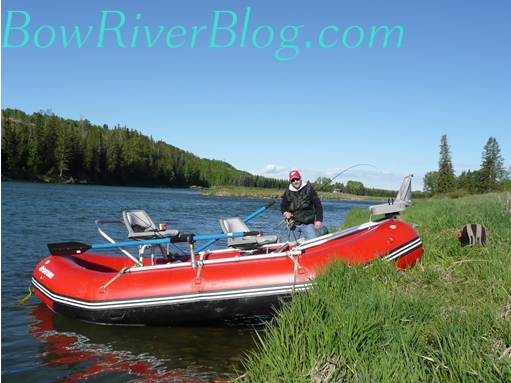 So many fishermen come to Calgary, Alberta to fish the blue ribbon Bow River for Brown and Rainbow trout. Not only does Calgary have excellent fishing on the Bow River, it is one of the most beautiful places in Canada to visit. With the Rocky Mountains only a forty five minute drive away, Calgary is the perfect place for any outdoors man or woman to spend a vacation. The great fishing does not end in the city of Calgary on the Bow River.
There are many fantastic destinations in Banff, Canmore, Lake Louise and all over Kananaskis country to catch whatever species of trout you're looking for. The Bow River forms in the Rocky Mountains of Banff National Park in southwestern Alberta and flows eastward 144 kilometers or 90 miles to the city of Calgary. Bow Lake, out of which the Bow River forms, is a beautiful, cold high mountain lake that is located north of Lake Louise. Bow Lake is fed by the Bow Glacier and some other small channels that drain off the Mountains into the lake.
The river gets bigger and moves slower as it leaves the mountains. The people that make use of the Bow River system are as diverse as the landscape the river flows through. The upper stretches of the Bow River which flows through Banff National Park is one of the most beautiful mountain settings in the world which attracts millions of visitors each year, from the experienced outdoor types who hike and mountain climb to the people who take advantage of the Bow valley's world class canoeing, kayaking, skiing, and hunting!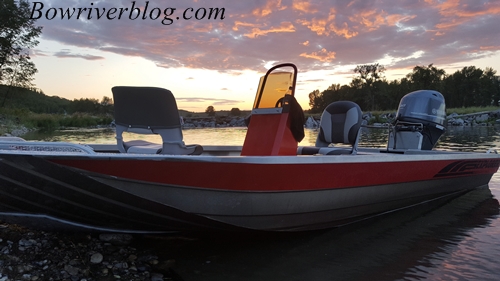 Alberta's hunting community plays a crucial function in wildlife managing in the province. It is important that hunters continue a tradition of responsible hunting practices while keeping well informed about current hunting regulations and requirements. If in doubt of the hunting regulations, refer to the Alberta Hunting regulations guide. There is hunting opportunities on more than 85 per cent of the land base in Alberta's parks system. Hunting is a natural activity for humans. Our ancestors were hunters for thousands and thousands of years. For many people, hunting is still a family tradition. If you are new to hunting, then you might want to take hunting education course offered here hunter safety course. Not only do we hunt animals for sustenance, we are also hunters of fish as well.
There are many excellent sections of fish-able water suitable for family day trips that are found between Calgary and Carseland. The Bow River is cherished by all kinds of people for many different reasons. Personally, I am thrilled at the fact that I am able to live in such a beautiful and clean city with the Bow River being right outside my backdoor. I love to fish other rivers that are close to Calgary! One of these rivers is the Highwood River which is the major spawning stream for Bow River Rainbow trout. This river just has to be seen and fished by anyone who is visiting from out of town, as this splendid eye candy just has to be witnessed with your own two eyes!
This river holds most of the provinces sport fish which includes Rainbow Trout, Brown Trout, Brook Trout, Bull Trout in the upper reaches as well as Cutties and lots of Rocky Mountain Whitefish. There is no other river that is quite like the Bow River. It is hard to believe that you could be partaking in a gourmet meal in one of Calgary's fine restaurants, and within an hour be catching some of the biggest and wildest trout available anywhere in the world.
The Bow River's resident population of Rainbow and Brown trout have one of the best growth rates to be found on any river system in the world today. A trout that is 4 to 5 years old will be around 21 inches in length and the Bow River holds many fish that are this size or larger. This is precisely why many fishermen from all over the world choose the Bow River to fish year after year. The Bow consistently ranks up as one of greatest trout streams of the world. Every single angler owes it to himself or herself to fish it. Click here if you want to be one of them!
When you plan your next fishing trip, or if you just want to see one of the most breathtaking places on the planet, come on out and visit Calgary, Alberta Canada; you will not be disappointed!