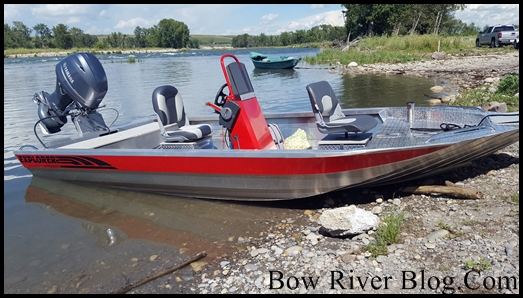 Bow River Blog Guided Fishing Tours Inc. is extremely excited to now offer guided jet boat fishing trips on the lower Bow River. We have now acquired a brand new Explorer Industries custom made aluminum boat, powered by a 40 HP Yamaha outboard jet to take you to all of my favorite ledges, runs and pools along the Bow River from the Carseland Weir to above Policeman's Flats. This boat is roomy and stable and very safe for all.
The benefits of having a jet boat is you can access the entire lower stretch of the world famous Bow River within your guided fishing trip. When we find a school of feeding trout, we fire up the jet and continue to move up and down the river concentrating on those feeding trout. This often means you can land 5-10 fish in a given area in a short amount of time, sometimes within a thirty minute span or less. The jet boat also allows us to skip over unproductive water and head straight toward those feeding fish that are ready and willing to take your lure! I refer to this type of fishing as "power fishing" where you skip the scenic route and go straight at the fish, landing trout after trout which makes this type of fishing something any spin angler must experience. Nothing says you have had a killer day on the water like landing twenty to fifty fish in one day, and this is entirely possible with a jet boat.
When making my purchase decision, I opted to keep my business local within Alberta and support a boat manufacturer here in my home province. I have always been a firm believer in supporting our local economy, thus choosing Explorer Boats for my business needs. The boat has three comfortable seats located at front and rear sections of the boat, but you can also stand comfortably and cast into the banks for willing fish. Either way you prefer to fish, you will be rewarded with some hefty Bow River fish.
If you prefer an after work trip on the river, we can accommodate that also. The trip will begin at 6:30 in the evening (summer months) and we can fish till dusk, targeting last light rainbows and browns. This trip will be a discounted rate from our full day trips at 300.00 CDN (two anglers, or 150.00 per person). The "after supper special" will include non-alcoholic drinks, rods, reels, and tackle. This will offer my clients an opportunity to take a break during the evening and fish till dusk.
What we will provide! (Day Trips)
A high end lunch is offered on our full day trips, and beverages (non-alcoholic) will also be provided. Please notify me if you are allergic to any specific type of food before our trip. We can stop at a local fishing shop and purchase a fishing license for you before our fishing day begins, but it is preferred if you have your license before the day of your trip! All fishing tackle will be provided for you as well, if there is some type of lure you prefer to use, feel free to bring that along with you. Tons of fun and lots of LARGE TROUT is the order of the day.
The full day guided jet boat experience will be 600.00 for two anglers and will include all of the same items as our drift boat package. Leave the boat traffic behind and step into our new Explorer Jet boat today! There are three ways you can book your trip, you can call 403-921-6998 or email me at bowriverblog@gmail.com, or you can simply leave a comment here and I will get back to you within 24 hours.