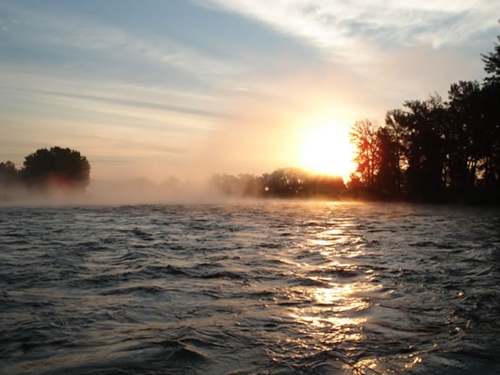 Welcome to the Bow River Blog guided fishing tour page!
SEE RATES AND/OR BOOK A TRIP NOW
Alberta's Bow River is the ultimate choice when fishing for BIG Brown and Rainbow Trout. The river forms at the Bow glacier, and flows through some of the most beautiful scenery found anywhere in the world. On this river it is rare that you will not catch fish that measure 20 inches or over, massive trout is what you will see on the end of your line, when fishing this river.
Our guiding service will take you from within the city limits of Calgary, all the way through to the Carseland Weir. This is the trophy section of the Bow River. I have fished the Bow River waters from Calgary to Carseland for over 15 years, and know this river very intimately. I have studied and learned how to fish this intimidating river system.
This Bow River guiding service is a personal fishing trip of a life time. The day will start early in the morning and we will fish until we reach our destination point with plenty of stops along the way to fish the banks. This trip will be tailor made for you with nothing less than massive trout being caught. This Bow River fishing guide service is for the spinner fisherman. The guys who chuck crankbaits, jerkbaits, spinner baits and all other hardware known to catch big fish. You need not be a pro fisherman to use our guiding service; kids, fishermen and women of all skill levels are welcome.
What you will need to bring?
Waders and boots will  be required if you plan to wade in the river. Please no studded boots only felt soled boots. You can bring your own rods if you choose or I can supply you with two rods for the day's trip. The rods I supply are Pfluger Trion, Berkley Series One rods with Pflueger President Reels. Please bring sunscreen, insect repellent, a hat to keep the sun off your head, and a warm jacket and rain gear for those days a storm decides to blow in.
What we will provide!
Our guided service wants to make you comfortable at all times while enjoying your day out on the water. The watercraft I prefer to use is a 15 foot Saturn inflatable. This craft allows for easy access to all areas of the river. I want to reach any and all fish-able water while on your trip, after all this is why you're here; to catch fish. A high end lunch will be provided for you and beverages (non-alcoholic) will also be provided. Please notify me if you are allergic to any specific type of food before our trip. We can stop at a local fishing shop and purchase a fishing license for you before our fishing day begins, but it is preferred if you have your license before the day of your trip! All fishing tackle will be provided for you as well, if there is some type of lure you prefer to use, feel free to bring that along with you. Tons of fun, and lots of LARGE TROUT.
(NOTE) All trips are per-boat rates. Two people per boat maximum.
Click here for a currency conversion.