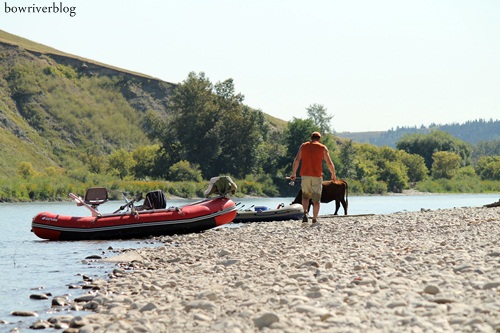 This stretch of the Bow runs from the Glenmore Trail Bridge to the Carseland weir. From the Cushing Bridge to the Highway 22X Bridge, is considered the middle Bow, and below the 22X Bridge is considered the lower Bow. After work on a nice day, I love to float from the Glenmore Trail Bridge to Policeman's Flats. This section of the river holds its fair share of large Brown and Rainbow trout, and if the trout are not biting you can almost always catch lots of Rocky Mountain Whitefish on your 4 hour float.
Catching 17 inch Browns and Rainbows and up, is not an uncommon occurrence on this stretch of the Bow under normal conditions. Today on the Bow, fishermen continue to catch more fish over 20 inches than fish that are less than 12 inches. Anglers that are from out of province may not do as well as the local fishermen, but that's not to say that they may catch the trout of their lifetime. Most anglers from out of town are used to having to go far from the city they live in to catch large fish. This is not the case on the middle Bow River which runs right through a major city.
Some of my favorite spots on the middle Bow River are the Ivor Strong Bridge, the 22X Bridge and the Dunbow Rd Bridge which was just recently built to connect Calgary to the number 2 highway.  Thousands of large trout are caught in all seasons of the year on all types of spinners and flies on this section of the Bow. Some of the best fishing I have ever had came after a heavy rainfall. This consequently turns the water muddy, and most districts of the city still drain directly into the river. This is when spin cast fishing is usually at is finest with the bottom bouncing method being the most effective way to catch large trout. Also the most productive days for me are the days when most anglers do not want to go fishing. So the days when you are contemplating staying home are the days that you should fish the river.
The middle Bow River has many different access points from the Cushing Bridge on 17th avenue S.E and also at the Glenmore Trail Bridge (Graves Landing), on the west side of the river. The type of boat I use is a Saturn Inflatible which seats two anglers and the guide. Float and fish this wonderful stretch of the Middle and Lower Bow River in comfort!