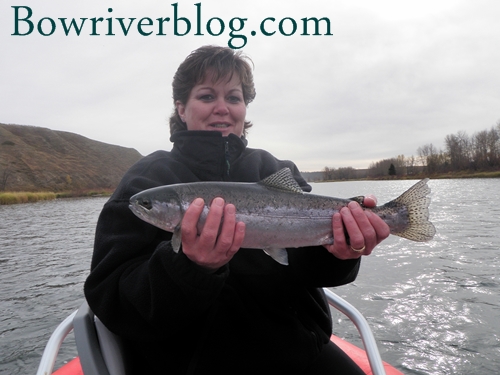 Mike,
Thank you for such a wonderful experience on the Bow River. Although I have lived my life here in the city, and fished the river a few times, I had no idea of the size of the fish that we found yesterday. First thing in the morning and the temperature sitting at a balmy 3 degrees I was questioning myself on why I was going to go fishing? Lol….
The first fish that hit was an amazing feeling. Too bad I didn't get it to the boat, but I do know that you both saw it jumping out of the river. Even though Jim saw nothing…..ya right!
After a couple of hours and some nice Rainbows, it was sure nice to see Jim catch that "Monster Rainbow". It was a real beauty. The largest Rainbow both of us have ever seen. Shortly after to get the next really big Rainbow was like icing on the cake. What a cool experience! I keep asking myself….How does Mike know where the fish are? Seemed like where you said to cast, there would be a fish. Wow!
Mike, I really want to thank you for an unforgettable Fishing Trip on such a beautiful day. Your knowledge of fishing, gear and tackle was amazing, but even more amazing was your knowledge of the Bow River. The rods and tackle was a nice added touch. So nice to get ready to meet up with you and everything was provided. Rods and tackle were first class. Lunch and beverages were also very good and nice that it was provided.
Very nice that you were fun (had lots of laughs), considerate, and most of all, patient with me! Not even once did you seem frustrated with my inexperience and uncontrollable casting! Lol…… I do have to say, never got your hat, thank god, would have never heard the end of that.
Keep up the great work with your guided fishing trips. Will definitely spread the word of our wonderful time we had with you. Really hope we can do it again in the spring.
Take care,
Melody and Jim