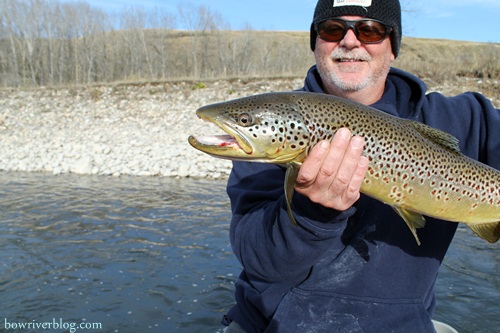 Mike, what can I say but WOW! Your knowledge on the bow river is unbelievable! That rainbow that you caught while teaching us was easily 7 LBS! To this day I think about that rainbow, and what can I say about that Brown Trout I caught, beautiful fish and huge. My brother went back to Hamilton with a huge smile on his face. Between us 50 plus fish for sure were boated.
Thanks Mike, I will see you in early June and October of next year for sure! The float in your raft was also awesome. If you made those turkey sandwiches they were delicious; you do a hell off a good job.
Just to let you know, the next day when I got home I tried to hold my rod were the but end rests on the inside off my forearm and I had a friggin bruise from catching so many fighting fish. Unreal! Thanks again and will see you in early June my friend.
Ed Rawn