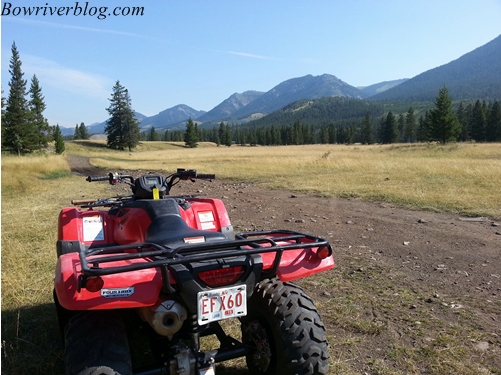 Up and at it early today, camp coffee and Todd's breakie sandwich and we were all set to mount up on the quad's and hit the many trails along the Oldman River. The quad trails inter twine all along the rivers edge and is an incredible way to travel the scenic mountain landscape of the southern Alberta terrain. I have never ridden a quad so this was a total bonus for me. So many places that are accessible only by ATV that otherwise cannot be seen from any road or walked by foot.
We packed the tool box of the quads with drinks, tackle and our fishing gear and headed out on the trails to find the deep pools of the Oldman River. We were hoping to land a few large Bull Trout that the river is known to produce. The Alberta record Bull Trout was caught in this river basin many years ago, my name would look great in the Alberta record books. A short 2 Km quad trip and we were at the first juicy looking pool, deep gourged mountains was the back drop and even deeper pools at the end of long choppy runs.
We dismounted the ATV'S and strung up our rods, no time to waste around here. I chose a Live Target trout parr in the Brown Trout color and Todd went with a CD 7 Rapala. We walked up the river and decided to fish the tail out of the first pool with no hits or no chasers. We both moved up into the middle section of the pool where it look more profitable. On a rock pile, straight in front of us was a steep rock wall with a deep seam running along the rock face. Todd said go ahead and make a cast! My first attempt was into the swirling water that lined the edge of the rock face. With a few twitches of my lure the first fish was on the line fighting furiously to kick my hook free from it's mouth. He was sure scrapping hard to buck my lure! A tight line and skill and he was landed on the rocky shore line i was standing on. What a serious adrenaline rush!
The Oldman has many species of fish including Rainbow, Cutthroat, Bull Trout as well as plenty of Rocky Mountain Whitefish. I knelt down to unhook a beautiful Cutty and Todd snapped a few quick pictures before I released him back into the crystal clear water. Before I could pick up my fishing rod and recast in the pool, Todd had another sweet Cutty on his Rapala minnow imitation. The head and middle section of the pool was loaded with 2-3 pound Cutties and I was lucky to land 4 awesome fish in this short stretch of river. We exhausted the pool until no more fish were hooked.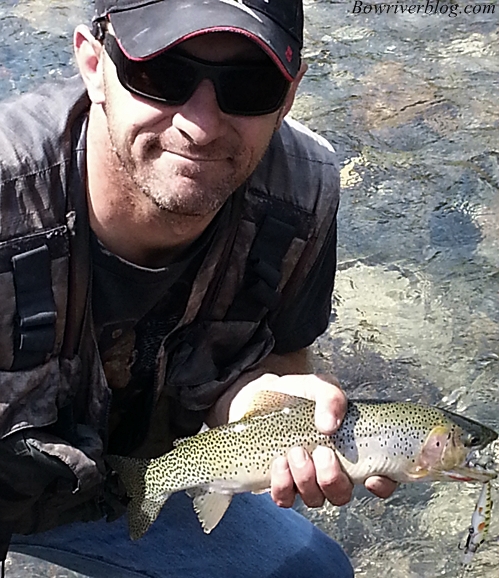 A short walk around the corner and there is the next pool waiting to be plucked clean of fish. This river is amazing, around almost every corner is a pool that excites every one of a fishermans senses and makes one drool with anticipation. This is stream fishing at it's finest!
Pure bliss and sheer excitement awaits you here.
The next pool was as good as the first, another two amazing cutties for me and a few for Todd as well. Once the pool has been fished it's time to see new water. Todd said it best "the first hook to hit the water is the one that catches" This proved to be true in many sections of river today. We took turns in each pool, fishing etiquette if you will. I relate it to golf in a way, a player will not walk across another players line when he is making a put; same thing here on the river. Having a great fishing partner at the same skill level is a total bonus, we both have respect and complement each other.
We traveled many Kilometers today and fished a 4K stretch of the Oldman River. I landed twelve awesome Cutties and Todd caught almost as many. The river was alive today with hungry trout. To say it was fun would be an understatement. Tomorrow will be our last day of fishing here before we pack up and head back to the Calgary concrete jungle. I can only hope Saturday will be as good or better than yesterday was. More untouched water and super feisty fish await our arrival. I look very forward to the next surprise in the next pool of trout fishing heaven!