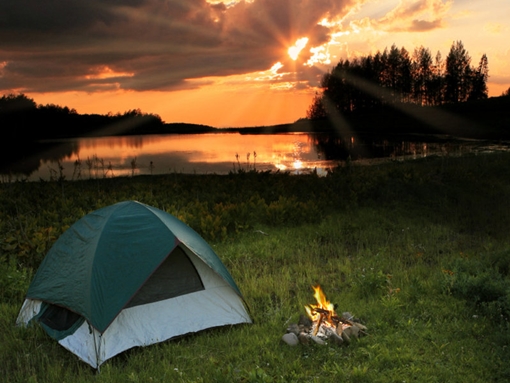 A guest post by Joel Cowen at http://www.austinkayak.com/
Camping is the most affordable vacation you can take but these inexpensive camping secrets can help make your camping trip even better and easier on your budget.
Taking a Warm Shower in the Woods
Missing a nice hot shower while you're out in the woods? Take a warm make-shift shower at your campsite by painting plastic gallon milk jugs black (flat, not gloss), filling them with water and letting them sit in full sun for one to two hours. You can use the warm water to wash clothes and dishes too.
Repurpose Old Shower Curtains
Stay dry and clear of bugs by saving your old vinyl shower curtains and using them as ground cloths or tablecloths. Sudden thunderstorms often happen on hot, humid days so just cut a hole in the middle of a shower curtain and you'll have an emergency poncho for rainy days.
Three Amazing Camping Secrets
Are you prone to cold feet?  Place a piece of aluminum foil, shiny side up, in your boots to warm your feet using the radiant heat.  You can save a lot of room and some cash by saving ketchup and mustard packets from restaurants and drive-thrus to take when camping. Stuff a bunch of those plastic grocery bags into one plastic grocery bag and take them along to create a temporary clothes line between trees by tying them together.
Baby Wipes Are Not Just for Babies!
You can save money and space by using baby wipes instead of toilet paper.  You'll get more "wipes" out of a container of baby wipes than two or three rolls of toilet paper.
No More Fumbling Around in the Dark
Use rechargeable solar lighting (the kind you put in front of your house or along your driveway) instead of flashlights to save on batteries. You need to make sure you leave the lights out in the sun during the day so that they can fully recharge.
Soggy Matches Don't Light Fires
You should keep your kitchen matches nice and dry by dipping them in melted paraffin before you go camping. Or, you can save those old prescription bottles and using them to stash matches in so they don't get damp.
Easy Roaring Fire
Cut waxed milk cartons into tinny strips, make bundles of the strips using twist ties and use them for kindling. This is especially handy if it has been raining and everything is soggy.  However, if you don't need kindling, cut the bottom out of 1/2 gallon waxed milk cartons to make handy (and sturdy) beverage cups. These cartons also make great, mini-garbage "cans" that won't leak or disintegrate.
Don't Let the Insects Bite
Mosquitoes and many other insects that bite do not like the smell of vanilla. Take along a small bottle of vanilla extract and dab some at your body's pulse points while camping. If you do get bit, use Orajel to relieve the itching, or numb the aching, of a bug bite.
It's Soup Time!
Not enough bowls for everyone? Simply cut out the bottom of an empty, plastic 2-liter bottle and smooth edges with a piece of sandpaper. You can make the bowl as deep or shallow as you want it and re-use it later as a water scooper, digging tool or makeshift pet bowl.
Camp Germ-Free
Well, almost!  Just let the dishes dry in the sun. Ultraviolet radiation kills germs and you won't be wasting any paper towels.
Keep Your Camping Area Neat and Tidy
A collapsible clothes hamper lined with a trash bag makes a nifty trash can that can be easily picked up and emptied. Take the trash bag out at the end of the camping trip and you've got a clothes hamper in which to store dirty clothes.
No SPF, No Problem!
Sometimes we forget to put on sunscreen or don't think the sun is strong enough to give us a sunburn, only to discover that we have an uncomfortable and painful sunburn.  Applying ice will relieve the burn temporarily while used wet bags of tea can cheaply soothe a sunburn if no ice is available.
And the best camping secret of all–don't forget the duct tape! It's a quick fix for any and everything from a rip in your tent, to bandaging a wound or sealing the bottom of your pants to keep out unwanted bugs, dirt and grass burrs.