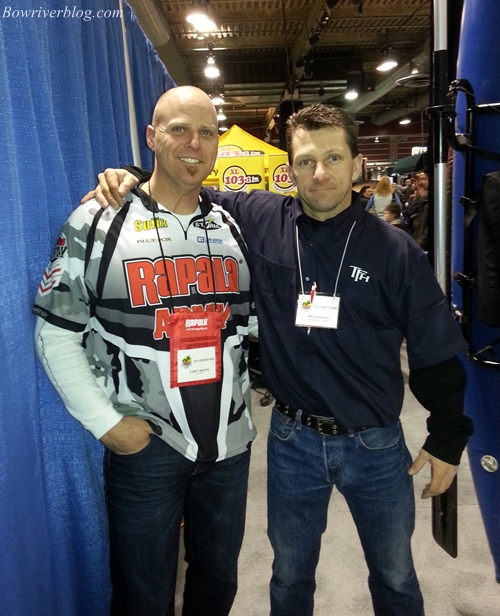 Normally I head down to the annual boat and sportsman show each and every year. I love to walk around and look at all the man goodies on display. Usually that costs around 10.00 for the entry fee but this year was all free. I was asked to help out at the Fishin Hole booth and promote a product called the Vexilar SP-100 SonarPhone. Here is a quick break down of the product from the Vexilar website. "The T-POD (SP100) is an ultra-portable Wi-Fi transmitter system that has a self-contained battery and can be pulled behind your boat, cast or thrown from shore.
As the name implies, SonarPhone turns your smart phone or tablet into a fully functional sonar system that will rival any high end sonar on the market today. Using patented Wi-Fi signal technology to transmit to smart phones or tablets! You don't need cell phone coverage to use it, the SonarPhone will work anywhere in the world. The SonarPhone creates its own Wi-Fi hotspot and you can share your signal with as many people as you wish, the software App is downloaded for free from the App store and works with both Android and IOS systems". This great product is available from local tackle shops and online here at the Vexilar website.
The show was a great way to see many fishing friends including Cory Wirth pictured above who has been a friend since high school, Donald Roguski who owned a local rod and reel repair shop here in Calgary and now works for Hummingbird and both Jim Hoey and Cal Jarvis of The Dimestore Fisherman. It was also great to see Steve Gower of Rapala and David Summers of Port Hardy British Columbia's Serengeti Fishing Charters.
The turnout for this year's show was quite low from past seasons. I think it would be perhaps better to have the show further into the spring months to attract more visitors to the show; after all it was -14 degrees and who really wants to venture out to look at boats? For me it was an honor and pleasure to be part of the Fishin Hole's booth this year and support my sponsor!
I will be traveling to the Edmonton Boat show March 15-16 to once again promote and support Vexilar and the Fishin Hole. I am looking forward to meeting new friends there. Hopefully soon this chilly weather will break and you will see me on the banks of the Bow River.