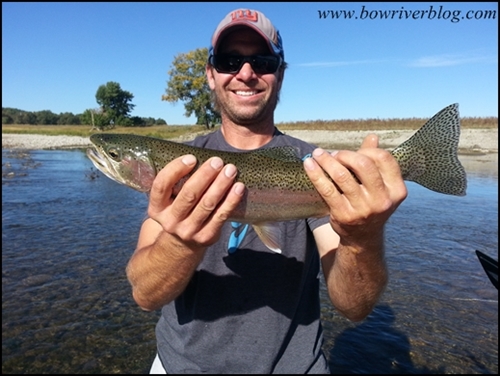 Trout….Trout…And more trout.
It has been a great summer so far on the Bow River south of the Calgary city limits. I was a little worried about the quality of the fishing this season after we had our devastating flood last year. Despite what was called a "major catastrophe", the fishing has been incredible since run off. The 2013 Alberta floods were caused by a low pressure system carrying warm, moist air from the Gulf of Mexico, which developed over Montana and started to move north toward the foothills in late June. Blocked to the west by the Rocky Mountains and to the north by an Arctic high-pressure system, the storm dumped more than 200 millimetres of rain – about half the average annual total for the area – in only two days. The rain alone would have caused a flood, but the warm humid air and rain falling on snow also melted the mountain snow packs, and the still frozen ground was unable to absorb any of the extra water. Apart from its localized nature and the fact that it remained stationary for so long (features still being studied by meteorologists) this weather system was not very different from other well-documented storms that have occurred in the area.
There has not been the numbers of fish caught previous to the major flood but I have seen 30 plus fish day's this summer! Those numbers of caught fish boggles my mind, considering the flood of 2013 was unlike anything I have ever witnessed in my life. It is not the river it once was, most all the locations have changed drastically. It is a whole new ball game out there! Many prime holes have now been littered with rocks and don't even look the same as they once did. The banks have changed and in some places, you cannot even get to fish the shoreline in many places, that shoreline simply does not exist any longer!
The new Bow River is challenging this year, as a fishing guide I had to re-discover new holes and holding locations for the resident rainbows and browns that were once plentiful but now are sparser. If you know your prey well, you know what kind of cover and areas to find them. For those anglers who are new to the sport of fishing, I suggest looking into what kinds of fish you are hunting, and get to know them well before you head out to your local river or lake, this will save you time on the water and make your trip more productive. There are so many great books and web sites today on trout fishing, if that is what you are doing; that will help you save time and footsteps while out on the river.
What I noticed this year was many more ledges created after the flood. These are prime holding locations for both rainbows and browns. The fish will sit and wait for food to drop over the ledge creating a perfect location to either pull off the river and shore fish, or when floating, anchor in the water and run the lure in the deeper water just below the ledge. There are some large trees in the water from last year's flood which make perfect cover for trout. Find the submerged trees and you will surely find as few fish. We have had many good days on the Bow River this year. My clients have enjoyed double digit days on a few occasions. Last weekend my two clients combined landed over 20 fish not including the ones that spit the hook and got away.
Another great fishing season has almost come to an end for me! Two more guided trips, one in the first week of October and one set for the third week. This year is almost in the books. Hoping you all had a great fishing season and landed some beauties like I. Special thanks go out to my customers who keep coming back for more trout year after year. It is both my honor and my pleasure to row you into those scrappy rainbows and feisty browns.