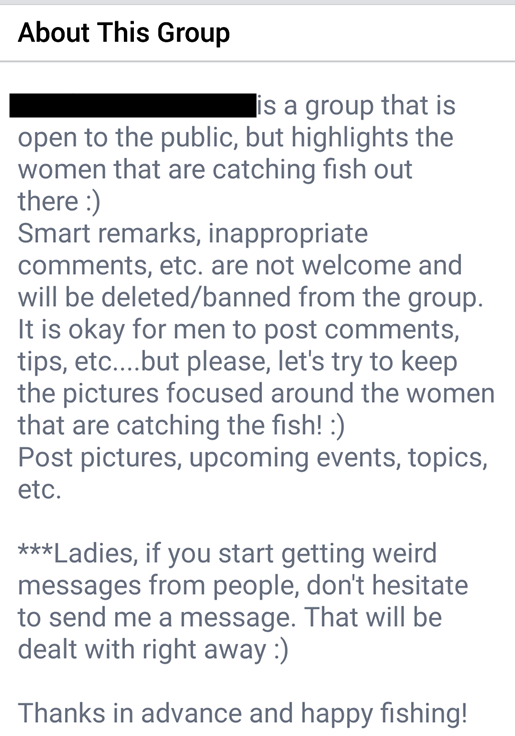 Making a difference
For those who do not know me, my name is Mike Robertson. I am the owner and operator of Bow River Blog Guided Fishing Tours Inc. I am a fisherman and a fishing guide, a father to a beautiful eight year old daughter. I am forty five years old and grew up with my grandmother, my mother and my sister Karen. My grandfather passed away when I was just twelve years old, leaving me the only male in my household. I was raised with high morals and good old fashioned values that still stick with me today, and hopefully forever more. Both my mother and my grandma taught me how to treat a lady, as they were both ladies themselves. Some of those lessons included holding the door for a lady, moving her seat out and in when she sat down, opening and closing the car door, giving an elderly lady your seat when she had to stand, walking a lady to her door when you said goodbye, as to make sure she was in her house safely, and securely. These are just some of the many values I was taught growing up. From my early elementary school days, I learned to watch out for my little sister, after all, I was her big brother and I was her only other sibling. I have a deep respect for all women of the world, and it's in my nature to uphold these values I was taught as a young boy.
I am staring a movement on all social media platforms to stop female angler harassment. I belong to many fishing groups on Facebook, and I follow many anglers on Instagram and Twitter, both men and women; after all, fishing is not just for the boys anymore. The sport of angling has become a universal sport, with many women of all ages entering into the world of fishing. In my opinion, it is great to see some ladies with a huge passion for Sport-fishing. Let's face it, when we catch our personal best fish, we like to share these fish with our immediate friends and family as well as post our catches to the groups or fishing forums we belong to. Having a sense of community and sharing our love for the sport is a blessing for us, and we take pride in sharing the fish we catch. Sadly, these days, when female anglers of our community share their pictures, they face derogatory comments, unsolicited advances both publicly as well as in private messages, they receive unwanted pictures of male genitalia and sick disturbing requests that would make  you vomit upon reading them. This happens to married women, ladies who are in relationships and have that blatantly posed on their profiles, and single women as well. Some of these comments and advances are so appalling; I cannot even share them here. I do need to let you know how crass these messages are however, so you know exactly how bad it really is. This comment below was posted on a female anglers picture after she simply posted a picture of a Bass on Instagram.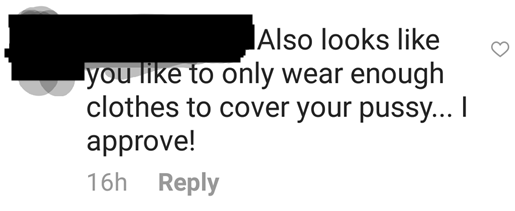 Here of some examples of what I am talking about. I remind you, this is simply from female anglers posting their fishing pictures online.
A Facebook female user who wishes to remain anonymous writes:
"Hi Mike, here are my biggest issues with my treatment from Men on social media. My first issue is, I post something like a pic of me fishing or being outdoors and being inundated by inappropriate comments such as, God you're sexy, look at those legs, etc,etc, to the point where I get in trouble from my mother for it. She has stopped supporting my fishing career because she has the wrong idea of what I am trying to accomplish. Second, I will post something like what is the best hanging bait box to get, and a few perverts will make a comment like "yeah, I bet you have a nice box!" and I have to block them. Or too many trouser trout comments to count. Third, my inbox (Private messages) I have had men ask me to send them lingerie pics with a fishing pole, and when I refuse they will say, "oh yeah…I knew you weren't really a female". I find this very disgusting! Genitalia pics that are unwanted, I have taken to only opening messages from people I trust now, but I actually opened a message this past Thursday because it said be careful on the ice, when I opened it, it was a picture and a guy was pointing to his ankle insinuating he sprained it when in reality his genitalia was on display. I was so pissed off. I had to block the person and report it. Again I was completely disgusted. I occasionally face cyber bullying too from men who say I have no business talking about what I do (Fishing Lakes), and how many fish have I caught etc. The truth is I have NEVER once proclaimed to be an expert, just a lady who loves the sport of fishing and writing, so instead of scrolling past they feel the need (a few) to make me feel stupid".
I find this extremely sad that this lady has to feel shamed by her own mother after facing this kind of online abuse. Remember readers, how many of us have our family members on our own personal Facebook accounts, I for one, have all my family members on my personal Facebook account. I want you to also know that this female angler conducts herself as a professional, both on her Facebook profile, and her Facebook Page.
Take a look at these comments and ask yourself, would you like someone talking to your daughter like that, your sister, your wife or girlfriend? Don't you think it's really wrong that a lady in our fishing community has to fear accepting a friend request by a male angler? Don't you think unwanted advances and sick images are really wrong? Don't you agree that this type of behavior needs to stop now?

That is why I started this movement, to stand up to the online rubbish, to stand with the strong women of the world who want this to stop, and stop now. I want to help all lady anglers by giving you a voice, by letting you know that it's ok to stand up to this type of behavior, and to let others know that this is actually happening all the time, all over social media, day in and day out. I want your voice to be heard so we can make it stop, together as one family of anglers. Please feel free to share this Blog Post with the hash tag, #stopfemaleanglerharassment and let's make a difference starting today.
Thank you,
~Mike