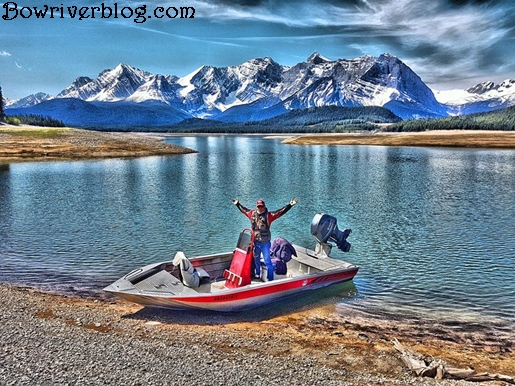 Weekend getaway to Paradise Lake
Have you ever felt the need to just pack up and go, get away from the concrete jungle and noises of sirens blaring into your room at night? Have you just packed up your camping gear on a whim, hooked up the boat to your truck and burned rubber heading straight to a mountain paradise? That's exactly how I felt; precisely what I did this past weekend! I felt the need for some rest and relaxation coupled with perhaps a few Bull Trout the lake has to offer. To be honest, it was more about the rest and relaxation then it was about the fish, they would simply be a bonus.
I made the hour and a half drive from Calgary Friday afternoon after work arriving at the campground before the sun went down. I never had much time to get my gear unpacked and set up, but managed to do it without any hassle. First the tent, then the air bed and blankets, followed by the stove and cooking supplies for morning breakfast. I had wood with me and decided to light a fire before retiring to bed for the evening. I sat in my lawn chair and listened to the crackle of the fire pondering where and how I was going to catch my first fish the next morning. I let the worries of life fly away like the smoke rising from that crackling campfire. When I am here, I am alone and the troubles and stresses of life seem to naturally melt away. It's as if the place has magic powers, removing all worry from my mind. Maybe it's the fresh air, or perhaps it's the sheer beauty that surrounds one in a 360 degree view. I let the fire die down after an hour and slipped into my sleeping bag to retire for the evening; by this time it was 11:30 and I was dog tired.